In the realm of cigar aficionados, the allure of enjoying a fine cigar doesn't end at home. For those who are often on the move or frequently find themselves away from the comforts of their well-seasoned home humidors, the need for a reliable and portable cigar storage solution becomes apparent.
Enter the travel humidor, a compact guardian for your precious stogies, ensuring that the journey doesn't compromise the quality of your cigars. In this comprehensive guide, we explore the world of travel humidors.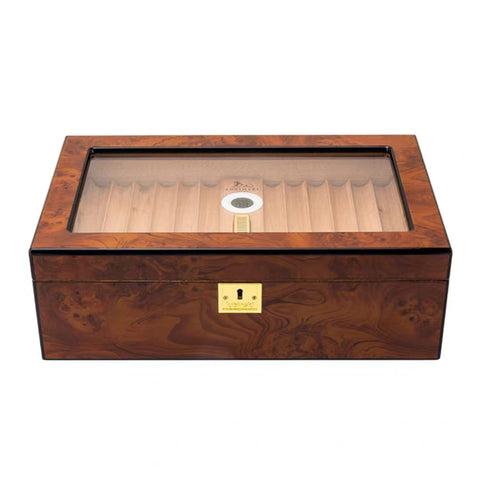 1. Cigars in Top Shape, Anywhere You Go
The beauty of a travel humidor is that it's designed to keep your cigars in perfect condition, no matter where your journey takes you. No more worrying about your cigars drying out, cracking, or losing their flavor.
2. Compact and Portable
Travel humidors come in various sizes, so you can pick the one that suits your travel style. Whether it's a pocket-sized case or a slightly larger travel companion, they're all designed for convenience.
3. Rugged and Reliable
These little guys are built to withstand the rigors of travel. They're sturdy, often waterproof, and can handle the bumps and knocks that come with life on the road.
4. Easy to Use
Keeping your cigars in peak condition is a breeze. Just add a humidification device (usually included) and you're good to go. No need to fuss with complicated setups.
5. Ready for Any Adventure
Travel humidors aren't just for luxury vacations. Take them camping, on fishing trips, or wherever your wanderlust leads. Your cigars can now join the adventure.
So, if you're hitting the road and can't bear the thought of leaving your beloved cigars behind, grab a travel humidor. It's the secret to enjoying your cigars in style, no matter where your travels take you. Happy journeys and even happier smoking!