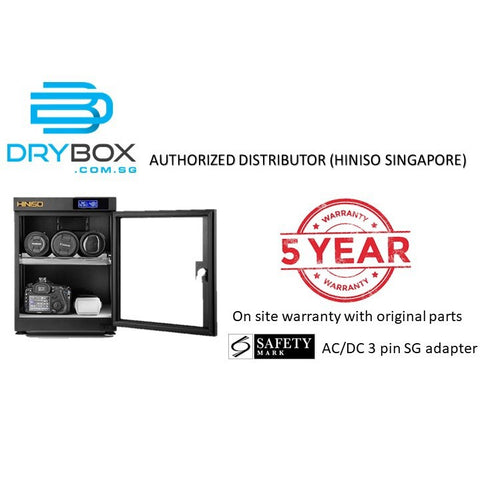 Hiniso Dry Cabinet Box 35L (Manual)
Save money, say no to fungus.
We are the premium dry cabinet distributor in Singapore. Customer service is our focus. Our promise to you: Affordable, quality dry cabinets. With our price-match policy and an unbeatable warranty, you never have to shop anywhere else.
Manual models: H-21C, H-35C
Do not come with LED side light
Hygrometer: Manual (Knob control)
Humidity range for manual: A-B : 60-55, B-C: 55-50, C-E: 50-40 %RH
Brand: HINISO
Dimensions: 43cm(H) x 31.5cm(W) x 32cm(D)
Internal dimensions: 37.2cm(H) x 31.9cm(W) x 31.4cm(D)
Trays: Adjustable trays with top tray of lens wave foam
Power Consumption: 4W
Lockable Magnetic Door with keys provided
Hygrometer: Manual (Knob-controlled)
Body Material: 1.0mm cold-rolled steel plate
Door Thickness: 4.0mm tempered glass
Tray Material: PP Engineering Plastic
Delivery: 2-4 days
Comes with Singapore Safety Mark Adapter.
Warranty:
5 years local on-site warranty on all electronic components (without rust/physical damage) with original parts. 7 days 1:1 exchange from delivery date. 30 days satisfaction guarantee (return for refund less shipping costs). For better customer experience, there is no need for warranty registration and warranty starts from the day of delivery.
LED Panel Setting:
Press and hold the "down" button if you'll like to decrease the intensity of the LED panel reading. Press and hold again to increase the brightness.
Recommendation:
Photographers look no further. Recommended setting at 44% for lenses and camera body/electronics. Leather handbags generally are set within this range. Too dry and you will risk cracking. Recommend to monitor regularly and apply moisturizer to maintain best results.